Ensuring a Safe Halloween with "Operation Blackout"
October 30, 2023
"Operation Blackout" lists a few simple rules registered sex offenders in Tennessee must follow to remain in compliance with their release, but as parents there are a few simple steps we can take to ensure a fun and safe night for our little ghouls and goblins:
Check for registered sex offenders in your area using the TN Sex Offender Registry at www.tbi.gov

Ensure that a trusted adult accompanies the children at all times

Explore local Halloween events such as Fall Festivals or Truck or Treats to add to the holiday fun
Let's work together to make this Halloween both enjoyable and secure for everyone!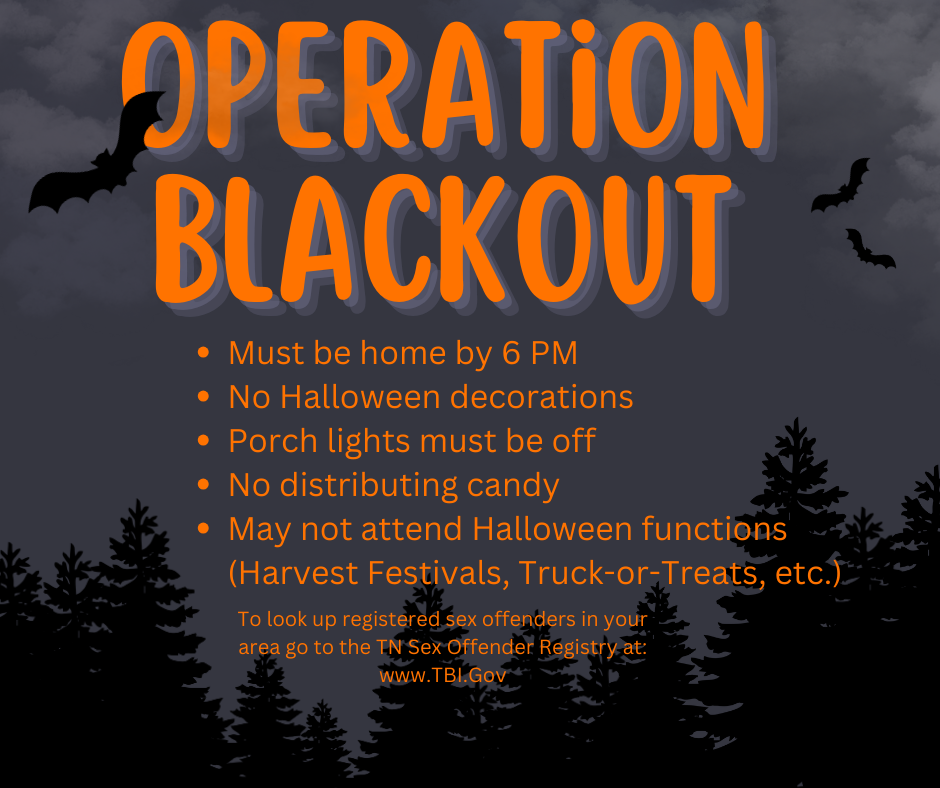 ---
Honoring Knox County Deputy Tucker Blakely
October 03, 2023
October is recognized as National Domestic Violence Awareness Month and every Sunday during this month you will have an opportunity to learn more about domestic violence as we work to raise awareness throughout our communities.
Sadly, the Knox County Sheriff's Office lost a deputy, Deputy Tucker Blakely, who was tragically shot and killed in the line of duty Sunday night. Deputy Blakely was responding to a domestic violence call. A call that is widely recognized in the law enforcement community as one of the most dangerous calls law enforcement answers. Deputy Blakely answered this call Sunday night and as we work to bring awareness to the victims of domestic violence let us also remember those brave first responders who have lost their lives answering these dangerous calls.
Please take a few moments to lift up Deputy Blakely's family as well as the men and women at the Knox County Sheriff's Office in your thoughts and prayers during this time. Deputy Blakely leaves behind his family, a wife and 5-year-old son as well as countless friends.
EOW 10/02/2023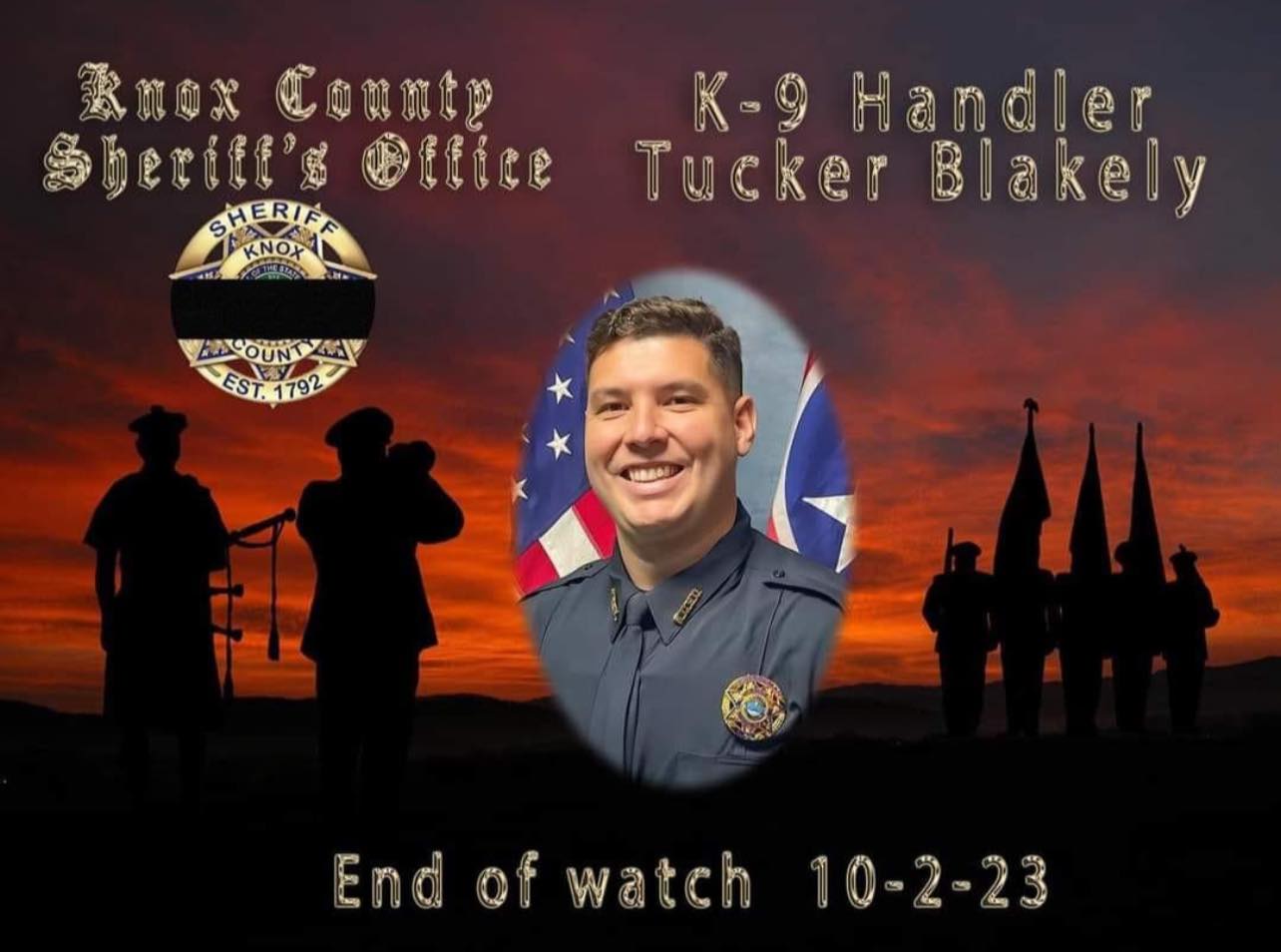 ---
National Day of Remembrance of Murder Victims - Unsolved Homicides - Knoxville, TN 2022 - 2023
September 25, 2023
As part of the National Day of Remembrance for Murder Victims we are highlighting the 2022 - 2023 unsolved murders that took place in Knoxville. Do you have information that may help the families of these individuals finally get the answers they need?
These families are looking for answers, want their loved one's murder solved. Even if you think the information you have is insignificant, maybe you cannot say who pulled the trigger, or did the killing, but you know what the victim was doing leading up to their death or saw someone hanging around, or maybe overheard a conversation related to the crime…if so, you may hold the puzzle piece that will help detectives solve the case.
We ask on behalf of the families that you contact East Tennessee Valley Crime Stoppers. We do not want or need your name all we want is the information you have about the murder. You can rest assured that when you contact us you will remain anonymous.
If you have any information about any of the unsolved homicides in our region contact East Tennessee Valley Crime Stoppers today. CASH rewards are possible!
Call: 865-215-7165 or **TIPS
Online: www.EastTNValleyCrimeStoppers.org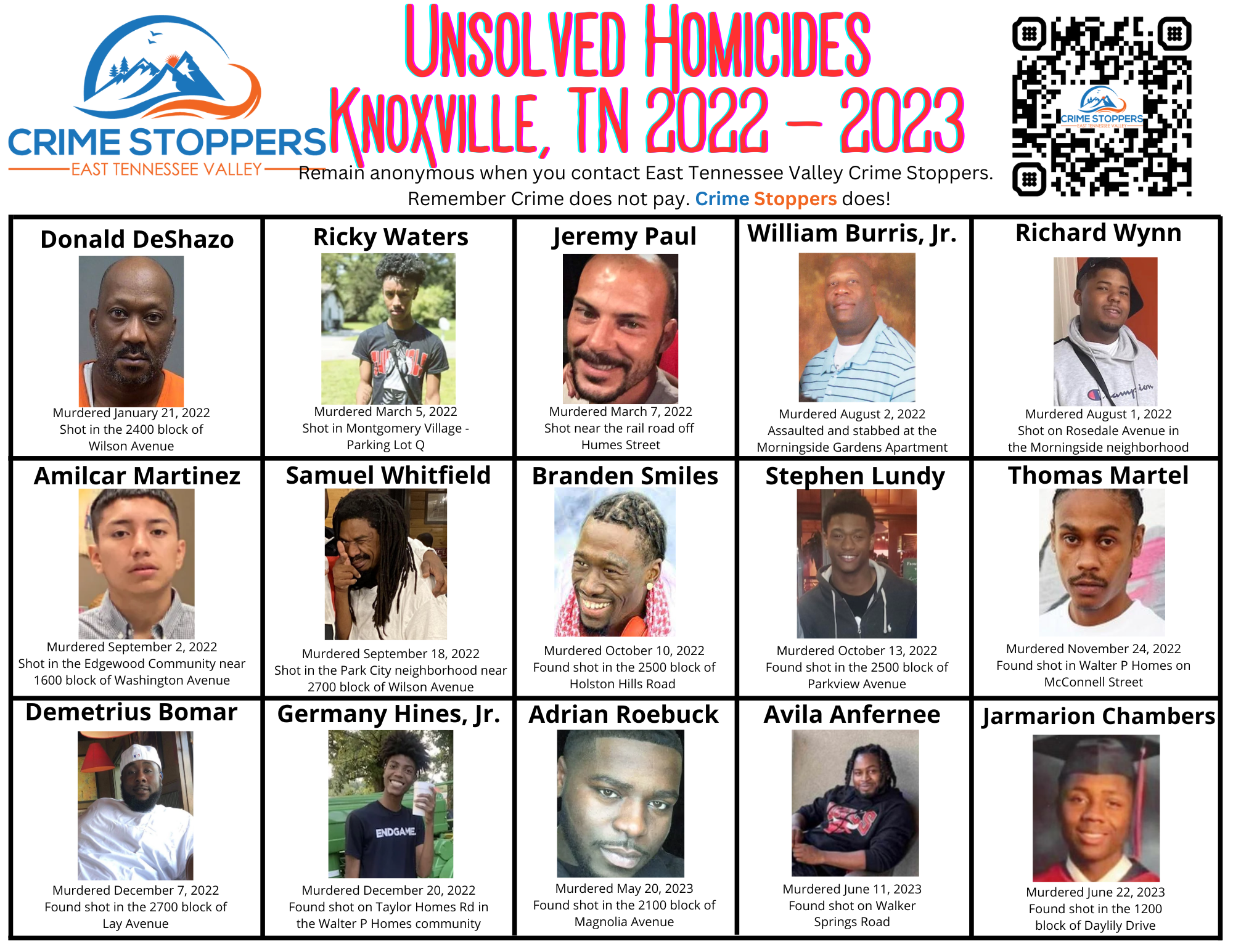 ---
18 Counts of Sex Crimes Against a Child
September 11, 2023
The United States Marshals Service and the Indiana State Police are asking for the publics assistance in locating a former Madison County, Indiana councilman charged with raping an underage girl. 55-year-old Steve Sumner, who also goes by Craig, is charged with 18 counts in the case, including 15 felony counts related to the rape.
There is reason to believe Sumner has been in and may still be in the Gatlinburg, TN area. He also has connections to the Waynesville, NC area and Maryland.
Sumner has a history of participating in the Nazarene Church in Montana & Colorado having attended the Nazarene Church Bible College. He may also be working as a handyman.
Sumner is being assisted by a female, Sharon Bailey Wood Barker, 5'7", 125 lbs, blonde hair, which she may have dyed.
Please help us get the word out about these two and if you see them or have any information on where they may be hiding contact East Tennessee Valley Crime Stoppers. CASH reward possible.
---
East TN Valley Crime Stoppers - 2nd Qtr 2023 Newsletter
September 01, 2023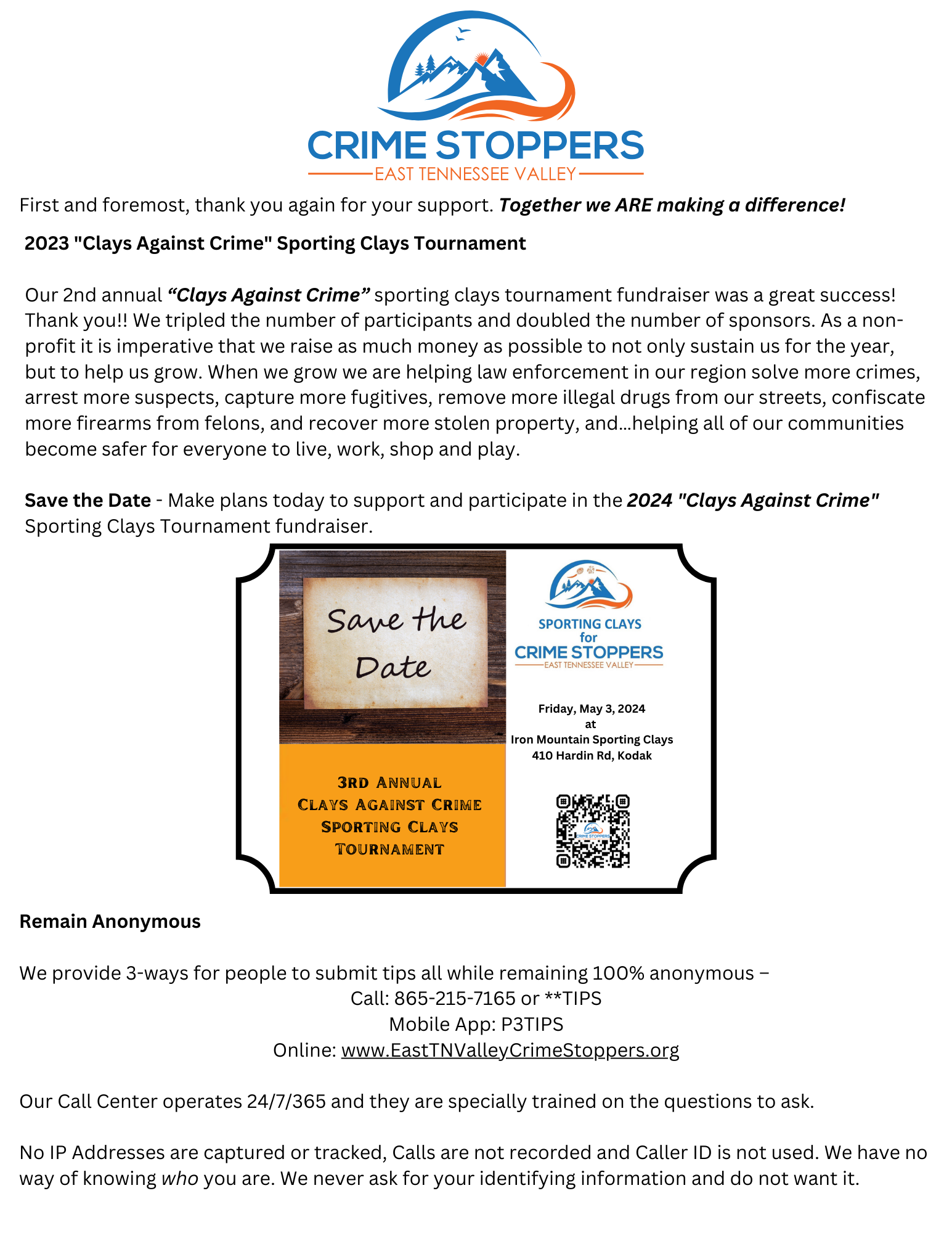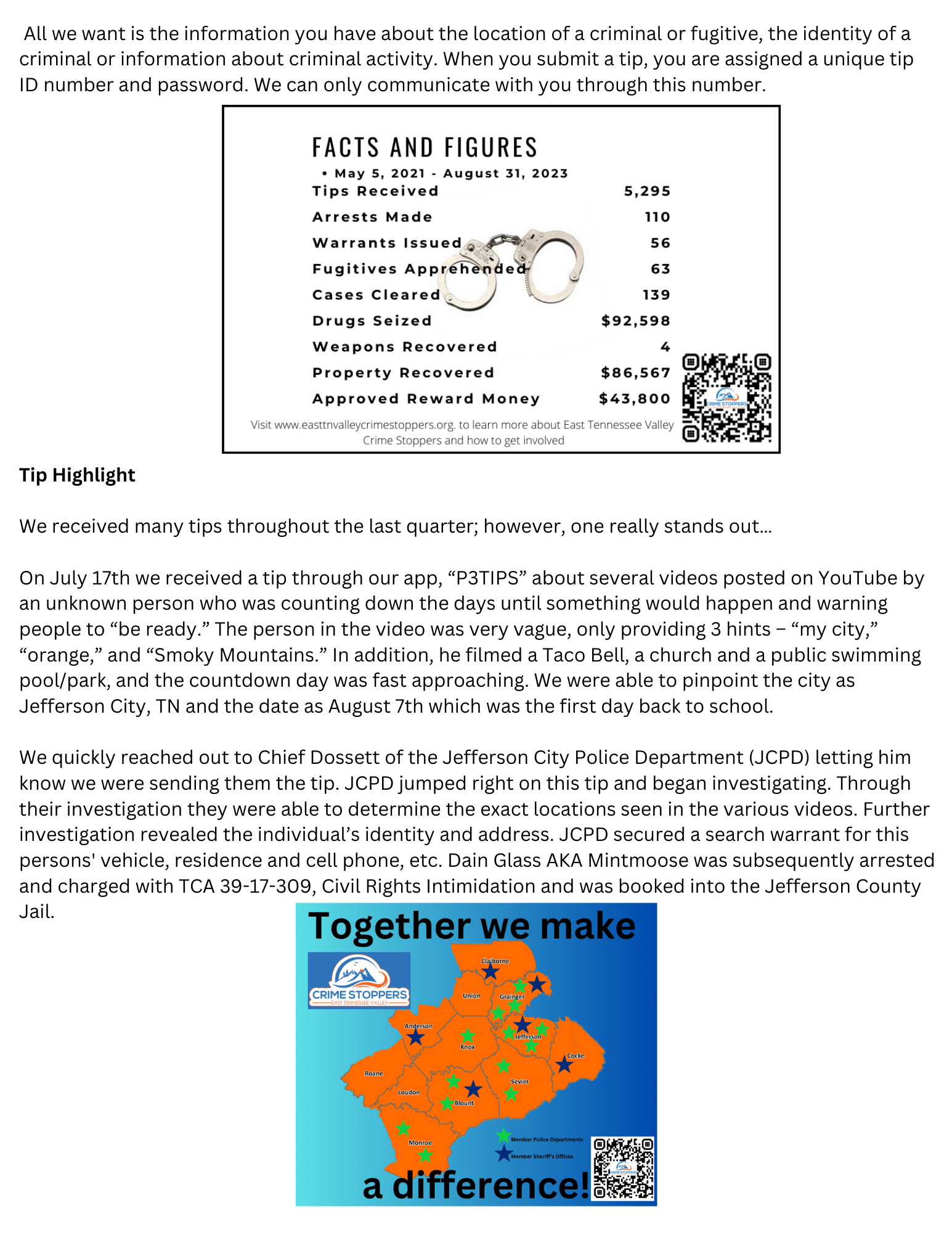 ---
East Tennessee Valley Crime Stoppers Hits Milestone!
July 24, 2023
Your shares, RT's, and tips have helped East Tennessee Valley Crime Stoppers reach a milestone today.
As of this morning, July 24, 2023, we have helped local law enforcement make 100 arrests thanks to tips received from people throughout our region.
In addition to these arrests, we have received tips that have led to apprehension of 60 fugitives, the closure of 128, the recovery of $86,167 worth of stolen property plus, 3 firearms, as well as the seizing of $92,114 worth of illegal drugs.
And…we have approved the payout of just over $40,000 in reward money.
Together we are making a difference in East Tennessee!
Thank you for your support and tips.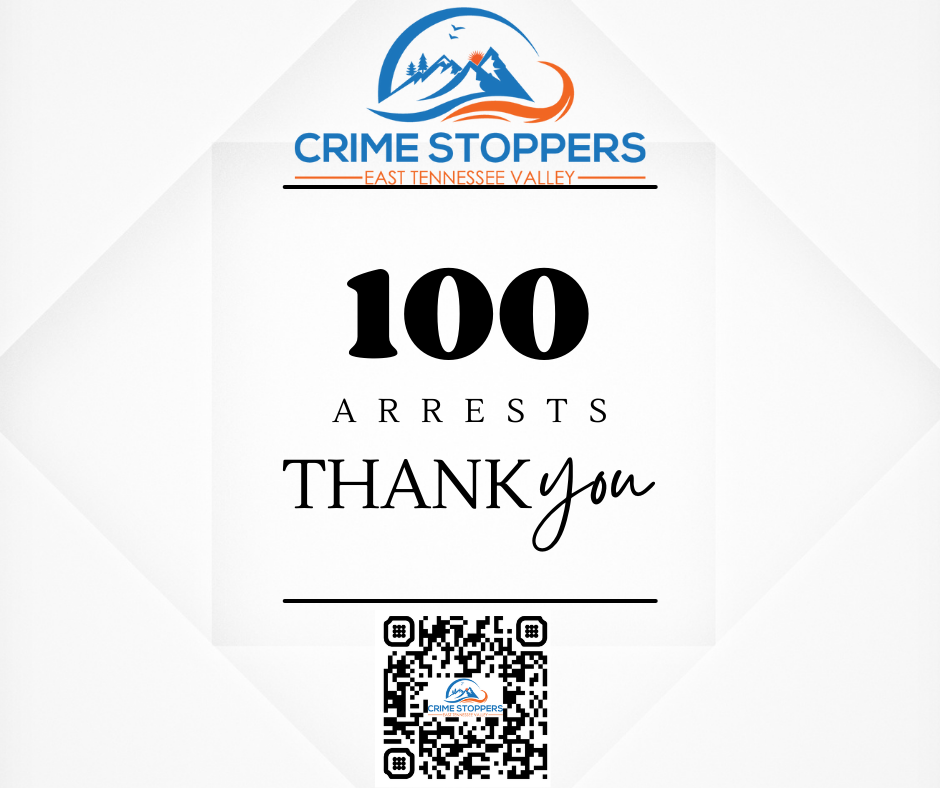 ---
1 Down, 1 to Go
June 30, 2023
UPDATE: On Monday, June 26th at approximately 6 PM Alvino Cornelius AKA Vino or Kash was taken into custody by the U.S. Marshals in Detroit Michigan without incident and is now sitting in the Wayne County, MI Jail.
Police had been looking for him since April 23, 2023 for an aggravated rape that happened in Knoxville, TN. Police are still looking for his partner Donjae Demarco Bell AKA Risk Taker or Codeine.
As we first reported in May, both Cornelius and Bell have connections to the Detroit, MI and Connellsville, PA areas.
If you have any information on where Bell may be hiding contact East Tennessee Valley Crime Stoppers today. You will remain anonymous and if your tip leads to his arrest you will be eligible for a CASH reward.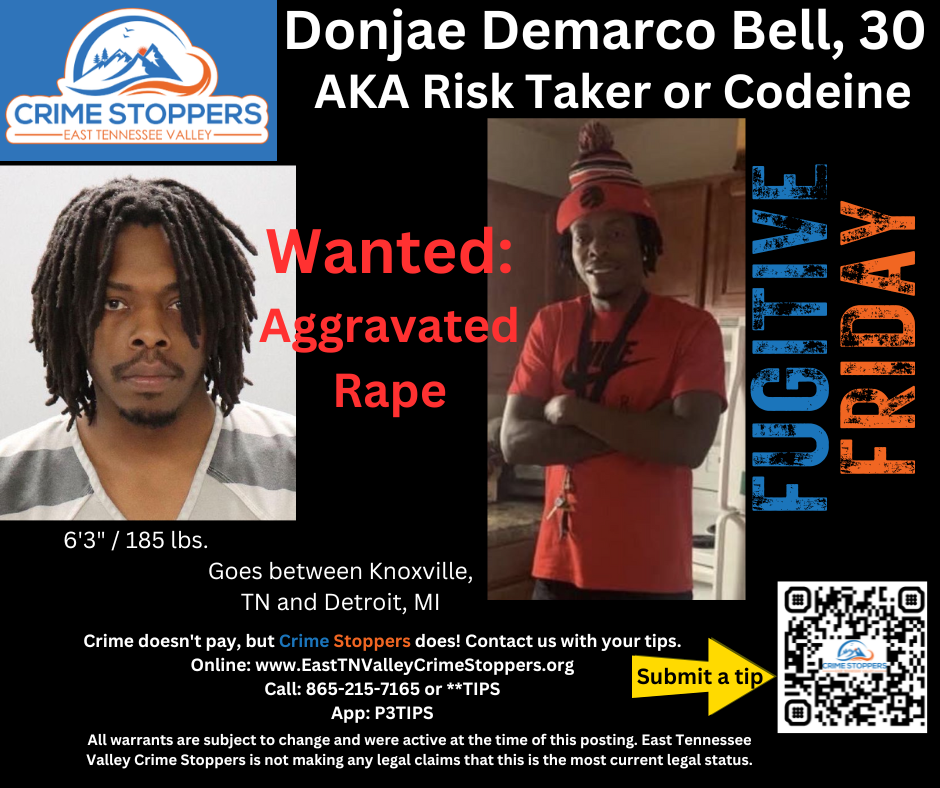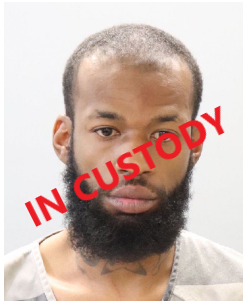 ---
Sex Offender Registry Violator Apprehended Thanks to Crime Stoppers Tips
June 08, 2023
After receiving numerous tips on the location of fugitive Jeffrey Potter the U.S. Marshals Smoky Mountains Fugitive Task Force along with the Blount County Sheriff's Office was able to take him into custody without incident.
Potter was wanted for violating the Sex Offender Registry Requirements stemming from an Aggravated Sexual Battery of a Child conviction.
Potter is facing numerous felony charges to include:
Violation of Sex Offender Registry Requirements
Violation of Community Supervision/Probation
Felony Evading Arrest
Misdemeanor Evading Arrest
Possession of Drug Paraphernalia
Thank you to everyone who shared our post and submitted a tip. Together we are making a difference in East Tennessee.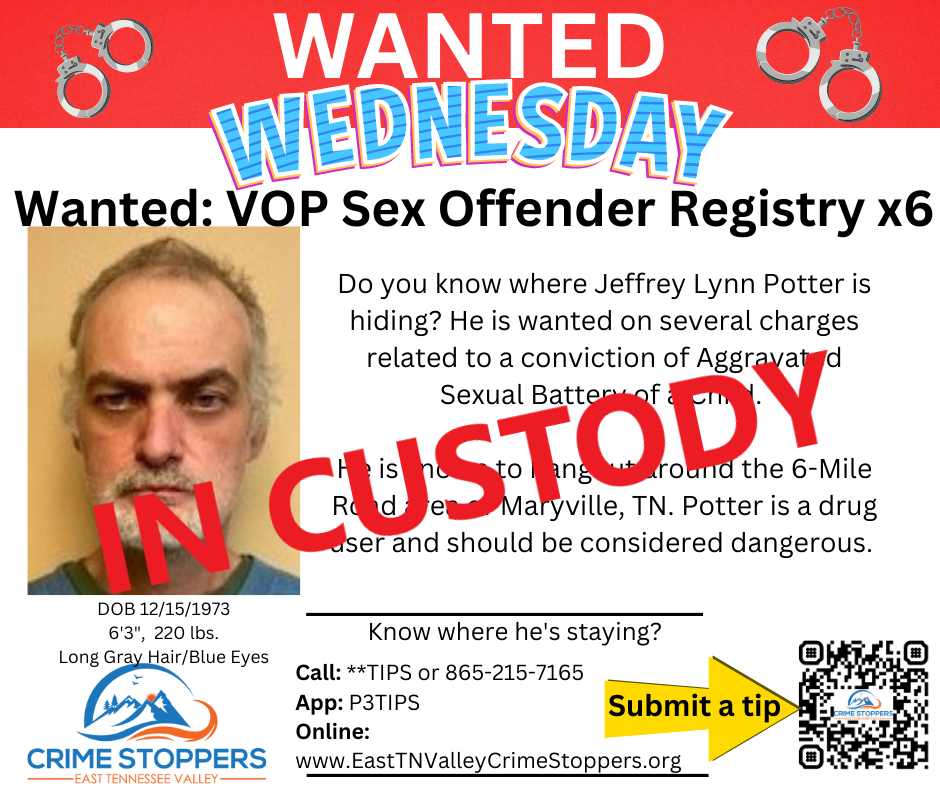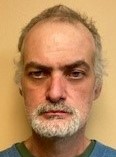 ---
Together We Can Make a Difference!
April 05, 2023
How does your sponsorship make a difference?
We pay our tipsters cash rewards to help law enforcement solve crimes, apprehend fugitives and shut down drug houses and arrest drug offenders. Your sponsorship provides the money required to pay for these tips. We have been very successful so far and need your help to continue making our community safer for everyone.
$25,000 sponsorship will help us apprehend 25 felons and guns from our streets.

$10,000 sponsorship helps remove 35 fugitives from our streets waned on aggravated assault charges.

$5,000 sponsorship helps take 14 criminals with felony charges off of our local streets.

$2,500 sponsorship will help remove approximately 80 grams of meth from our streets

$1,000 sponsorship will help close 4 residential burglary cases.

$250 sponsorship will help remove approximately 3 grams of heroin from our streets

Donations may be tax deductible.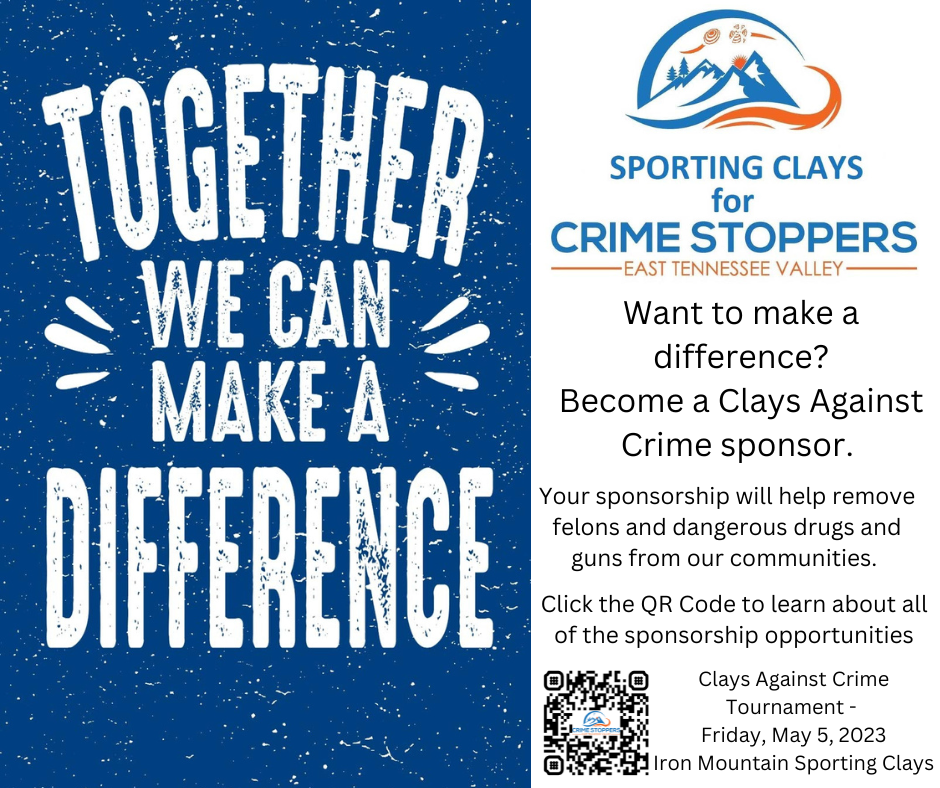 ---
Really Missing?
March 20, 2023
What happens when a missing person goes on social media and claims they are not missing? Why do you still show them as missing?
These are great questions.
The simplest answer is when a person, no matter their age, is reported missing a law enforcement officer must speak with the missing person to confirm they are okay before removing them from the missing person database.
Neither law enforcement nor East Tennessee Valley Crime Stoppers can simply trust what is being reported on social media. Law enforcement must meet with the person to confirm they are okay. If the person is a minor, they must talk with the person and their caregiver/guardian. Until this happens the person will continue to be treated as missing which means police and others will continue to look for them.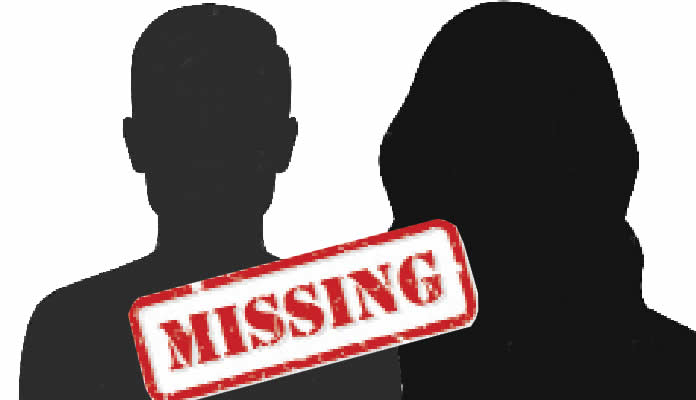 ---
Valentine's Day Month-Long Special
February 07, 2023
February is the month for celebrating the love in your life. And we don't want you to forget those exes' that did you wrong either!
Do you have an ex-Valentine and know they have outstanding warrants? Do you have information that they are driving with drugs in their car? Give us a call with their location and we'll take care of the rest.
This Valentine's Day month-long Special starts off with a set of limited-edition platinum bracelets, free transportation with a chauffeur, a one-night minimum stay in luxurious accommodations and professional glamour shots that will be posted online for all to enjoy. This special is capped off with a special Valentine's dinner.
We know this special is so incredible that you may be tempted to provide additional referrals. We don't blame you, this special is too sweet to pass up. Operators are standing by!
We have 3-ways you can get in on this Special - call 865-215-7165 or **TIPS, go online at www.easttnvalleycrimestoppers.org or use the P3 TIPS app.
Remember your tip may = a CASH reward!
(Laugh all you want, but someone reading this is about to call us and give someone up!)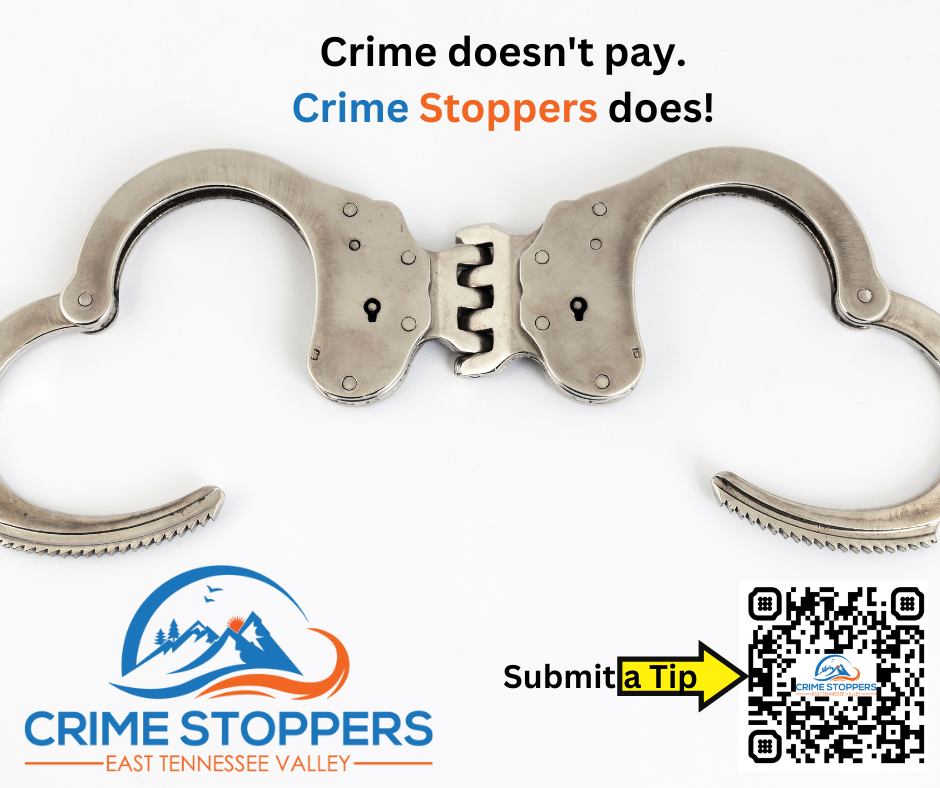 ---
Don't Take the Bait
January 07, 2023
Chances are we all of have received a phishing text, email or phone call recently and if you have not there's probably one waiting in your inbox. It's the easiest way for scammers to cast out their hook and find someone willing to bite, but there are several things we can do to protect ourselves and our personal information.
First, let's take a look at some of the popular phishing messages. These messages have one thing in common they are designed to grab your attention.
Text message or email saying your bank account or credit card has been locked due to fraud.

Emails or calls claiming your computer has been infected and you need to click "here" to let them fix it.

Emails and text messages claiming you've won a reward, such as a gift card – ex. $75 in free groceries from Walmart, Amazon, etc.

Email or message from a "friend" that you normally do not hear from.
Now, how do you avoid taking the bait?
Think before biting, before you click on that email or open the text message take a real close look at the address, URL and spelling.

Ask why would anyone need my computer information or bank information.

Ask why is someone you normally don't hear from emailing you out to the blue. Consider reaching out to them before clicking to confirm they really did message/email you.
Lastly, consider taking a proactive step and setting up 2-factor authentication on your accounts. This will make it harder for a scammer to gain access to your accounts even if you inadvertently give out information to a phisher.
For more information about online safety visit www.consumer.ftc.gov.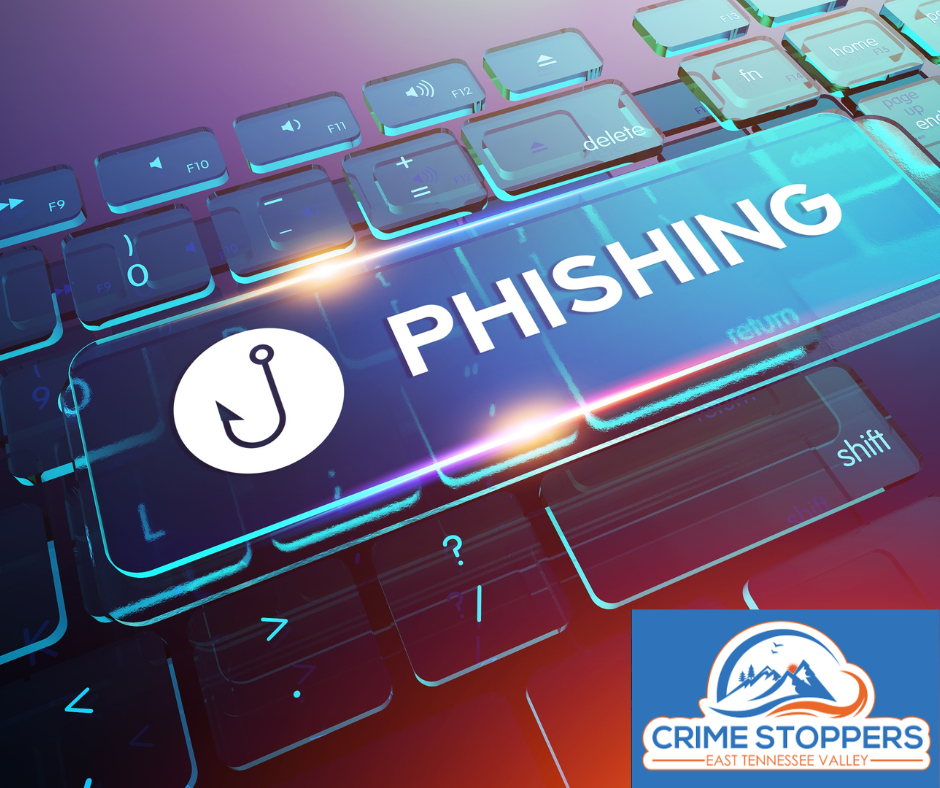 ---
Making a Difference in East Tennessee
January 06, 2023
2022 was our first full year and it was a VERY busy and successful year. Take a look at some of these facts and figures then take a scroll through our page to see if you recognize anyone. Maybe you will be the next person to receive some $$$$.

To everyone following us, who have liked our page, shared our posts and submitted a tip THANK YOU! You are the reason we have such great numbers to report. If you have not invited your friends to follow us do so now. The more people who see our posts the better chance we have of getting the information to solve crimes and locate fugitives.
Remember, when you submit a tip to East Tennessee Valley Crime Stoppers you will REMAIN ANONYMOUS and be paid a CASH reward if your tip leads to the issuance of a warrant or an arrest.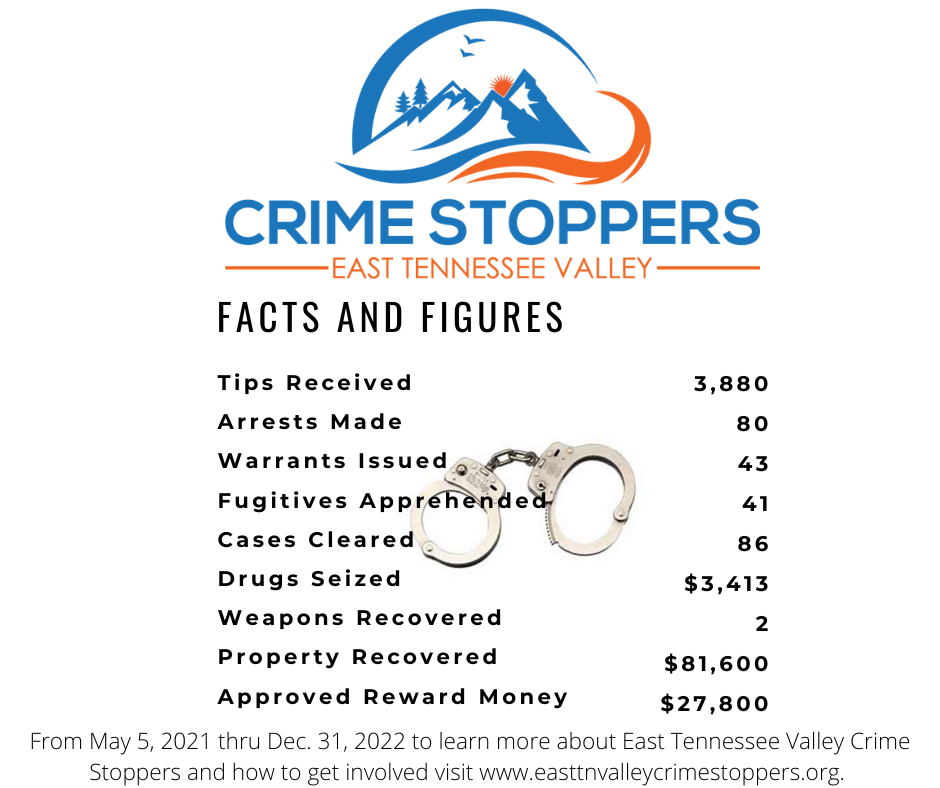 ---
Popular Year End Scams
December 31, 2022
How can you avoid falling prey to one of these popular year end scams?
Do your research. Here are a few simple tips to protect yourself and your hard-earned money.
Before you renew your software or malware find out when you last renewed and make sure you are talking to a legit company and not someone spoofing a legit business.

Before making a year-end donation make sure they qualify as a non-profit by seeing if they are listed as an Exempt Organization at www.irs.gov. Then confirm that the link you have is really to the non-profit you want to donate to and not to a spoofed site.

Many people go in debt during the holidays and scammers count on the fear of debt collection to get you to share your personal identifying information. Never share your information unless you have initiated the contact. If they are legit they will not have any problems proving it and will understand your concern about oversharing.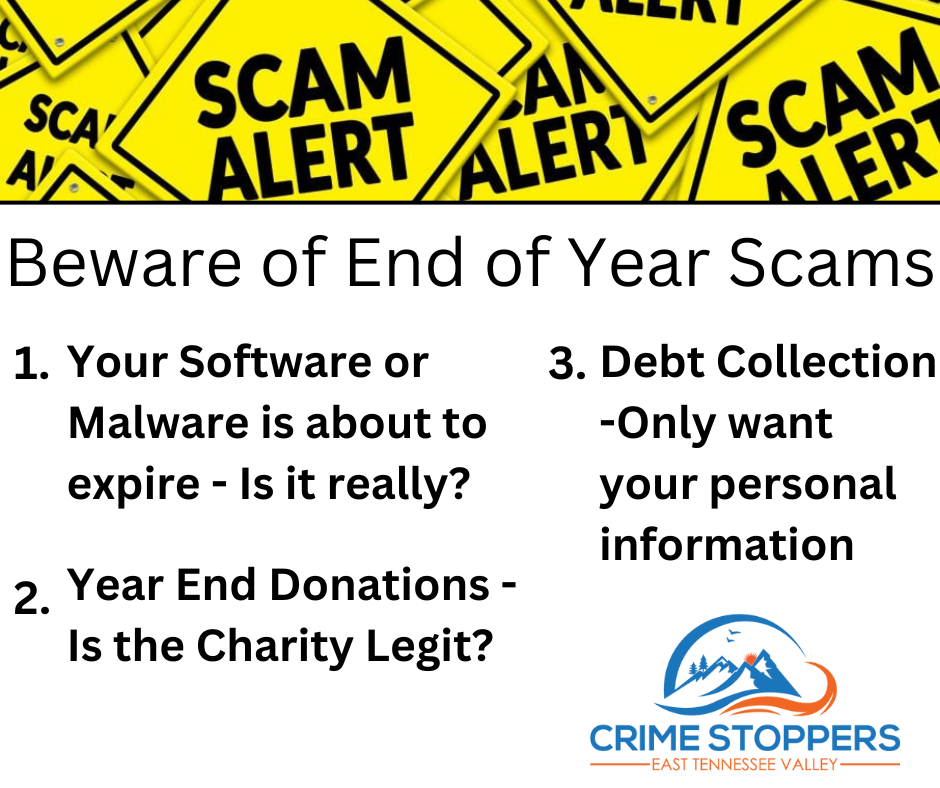 ---
Shoplifting Costs Everyone
November 30, 2022
Why should we care about shoplifters? We hear this question a lot usually followed by… "they have insurance," "they're a big business, they deserve it with the prices they charge," "the shoplifter is only trying to feed/cloth their family." None of these are valid reasons for stealing.
Let's take a look at these "excuses."
"They have insurance" – Yes, and if they file too many claims their insurance company is going to question they way they do business, their rates are going to increase due to the risk of insuring them and they will have to increase their prices which means you and I will pay more for their products.

"They're a big business, they deserve it with the prices they charge" – First, they employ local people who spend money locally. As for the high prices, these prices will continue to rise as they make up for the thefts, the increase in theft prevention, etc.

"The shoplifter is only trying to feed/cloth their family" – There are plenty of charities that will help those who have fallen on hard times. Most will even help them find employment so they can pay for the items they want. The vast majority of shoplifters are not doing it to feed/cloth their families. They are doing it to make money or because they do not want to pay for something they can steal. And, again because of these thefts what we pay for an item increases.
According to the National Retail Federation, in 2021 retail thefts cost the industry over $94 billion in losses. All of this leads to an increase in prices or stores deciding to close a specific location due to an increase in thefts.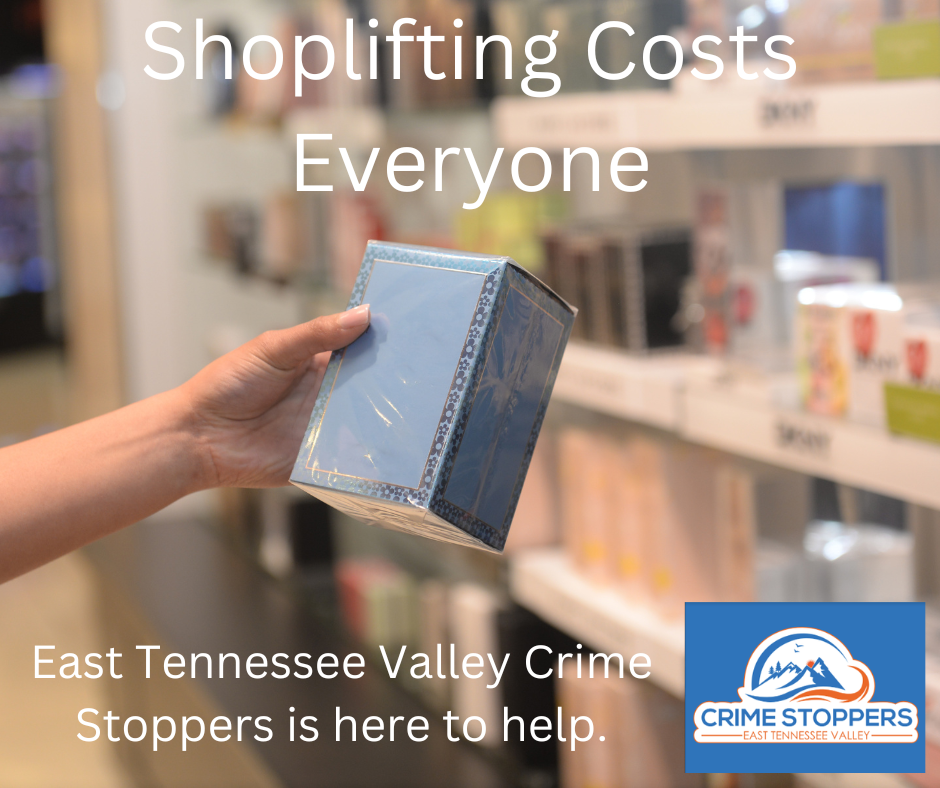 ---
WE NEED YOUR HELP!
November 29, 2022
We rely on anonymous tipsters to provide information that helps law enforcement identify suspects, solve crimes and locate fugitives. We also rely on donors for the money to pay these tipsters.
This is the perfect way to answer the question, "What can I do to make a difference?" Answer, donate to East Tennessee Valley Crime Stoppers. Your donation helps law enforcement solve crimes, apprehend fugitives, seize guns from felons and remove illegal drugs from our streets. And, it helps citizens have a way to share information they have in a safe and anonymous manner all while helping all of us have a safer place to live, work and play.
All donation amounts are welcomed and appreciated.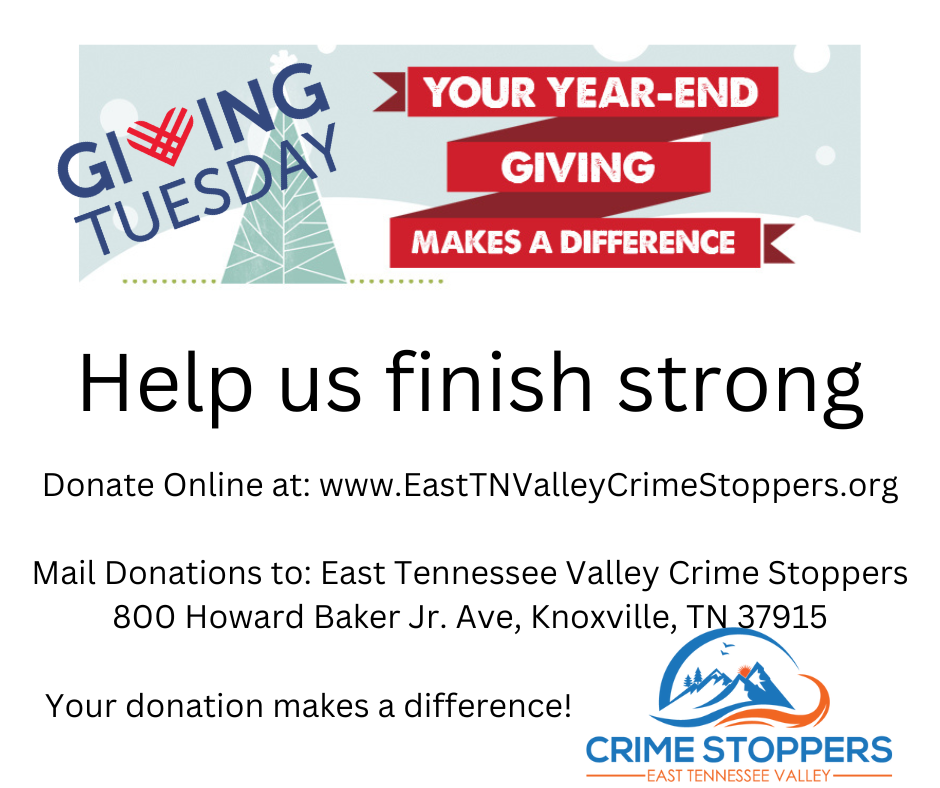 ---
Shop in your PJ's...It's Cyber Monday!
November 28, 2022
Today is the day we get to shop in our pajamas…it's CYBER MONDAY! As you start surfing from online sale to online sale take a few minutes to review these safety tips.
Only shop with reputable retailers and only on secured sites.

Don't shop on public Wi-Fi.

Safeguard your online presence by selecting strong passwords.

Protect your financial information. Use your credit card, not debit card. Consider using a payment provider such as PayPal or use a virtual credit card.
Finally, after the hustle and bustle of the holiday season has passed run your credit report to check for fraud.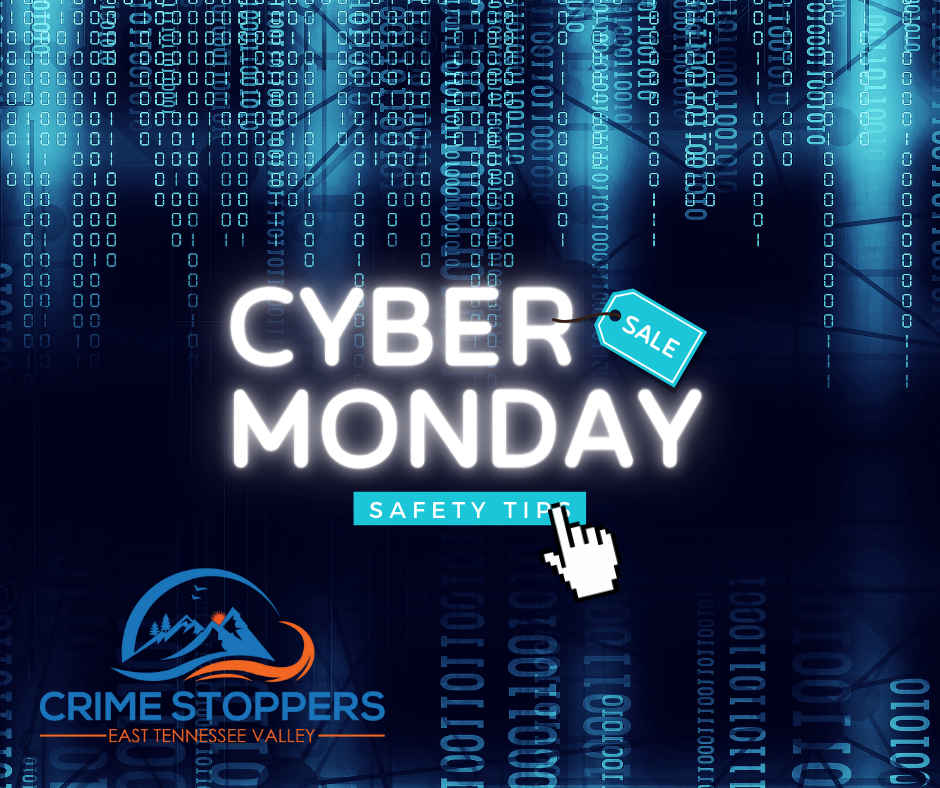 ---
On Your Mark, Get Set, Go Shopping...Safely
November 25, 2022
Today is the day many of us start our Christmas shopping and with only 4 weeks left to get in all of our gift buying it is easy to get lost in trying to get everything done and not forgot someone on our list.
As you make your list and check it twice East Tennessee Valley Crime Stoppers wants everyone to stay safe and consider these safety tips –
Always be alert and aware of your surroundings

Shop with a friend after all 2 sets of eyes are better than one

Limit what you carry with while shopping

Don't flash the cash

Out of Sight is Out of Mind – put everything in your trunk so it is not visible to people who walk by your car.

Have your keys in hand when walking out to your car
Most of all enjoy this holiday season. Relax, don't be in a hurry…enjoy the sights, sounds and smells of the holidays.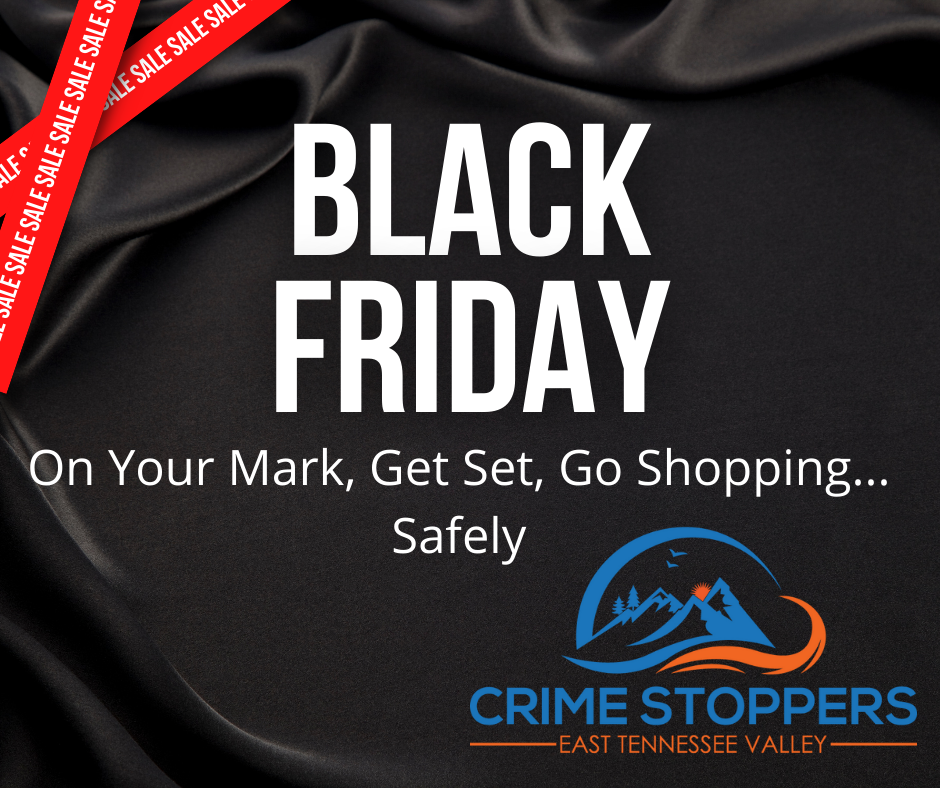 ---
'Tis the Season for Scammers
November 23, 2022
'Tis the season for scammers to start plying their trade and East Tennessee Valley Crime Stoppers is reminding everyone that by taking a few simple safety precautions you can make their job harder and maybe save yourself from becoming one of their victims.
Beware of phishing and virus loaded emails. Check out who is sending the email before opening it.

Right click the email in your inbox

Select "View Message Source" – Is it from a legit email or a scammer trying to look like an email from a legit business?

Ask yourself if the "deal" is too good to be true. If it sounds too amazing it may not be a deal, but a scam.

Turn on 2Factor Authentication. It is worth the extra step to protect yourself.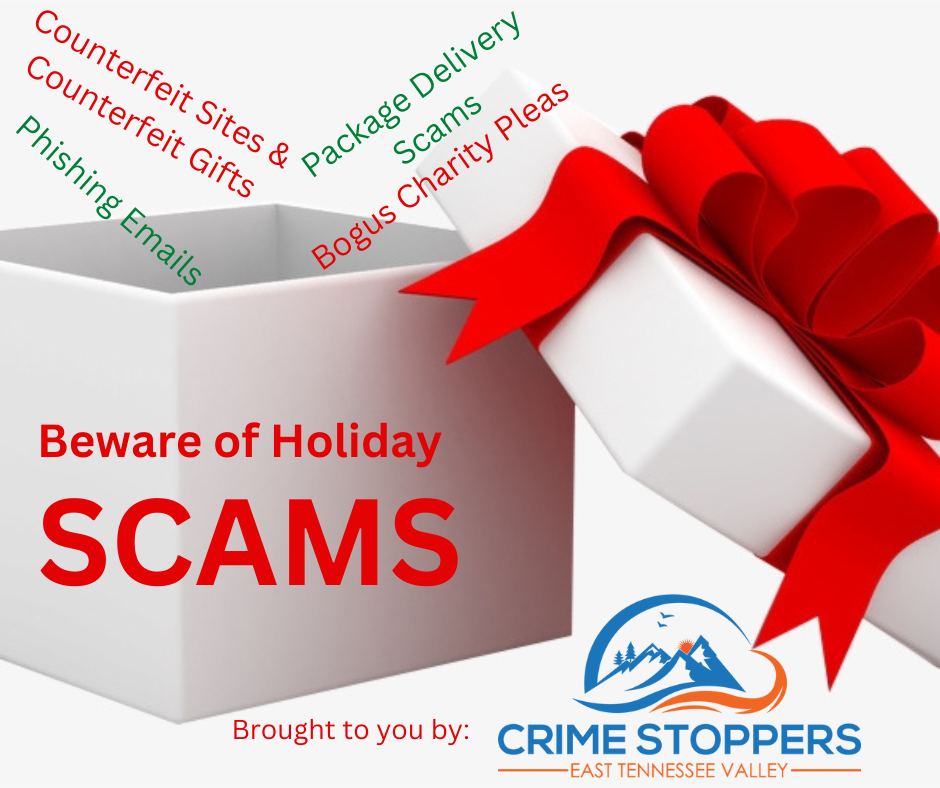 ---
Guess Who is Coming to Knoxville?
November 09, 2022
Knoxville and East Tennessee Valley Crime Stoppers was selected by the Southeastern United States Crime Stoppers Board of Directors to host the 2023 SE-CSA Training Conference in April and we could not be more excited to bring the 2023 host.
The board of directors of East Tennessee Valley Crime Stoppers and Southeastern Crime Stoppers Association kicked off our planning session with dinner at Chesapeake's Downtown to introduce them to a Knoxville staple. This was followed by a nice walk back to the Marriott-Knoxville where our conference will be held.
Today, we had an in-depth planning session, met with some City of Knoxville leaders and Visit Knoxville then enjoyed lunch in Historic Market Square, Knoxville at Cafe 4 before walking back to our hotel to finish our planning session.
Thank you to everyone who welcomed the SE-CSA board members to our beautiful city and East Tennessee.
If you or your business is interested in showing your support and helping us welcome our attendees in April send an email to easttnvalleycrimestoppers@gmail.com.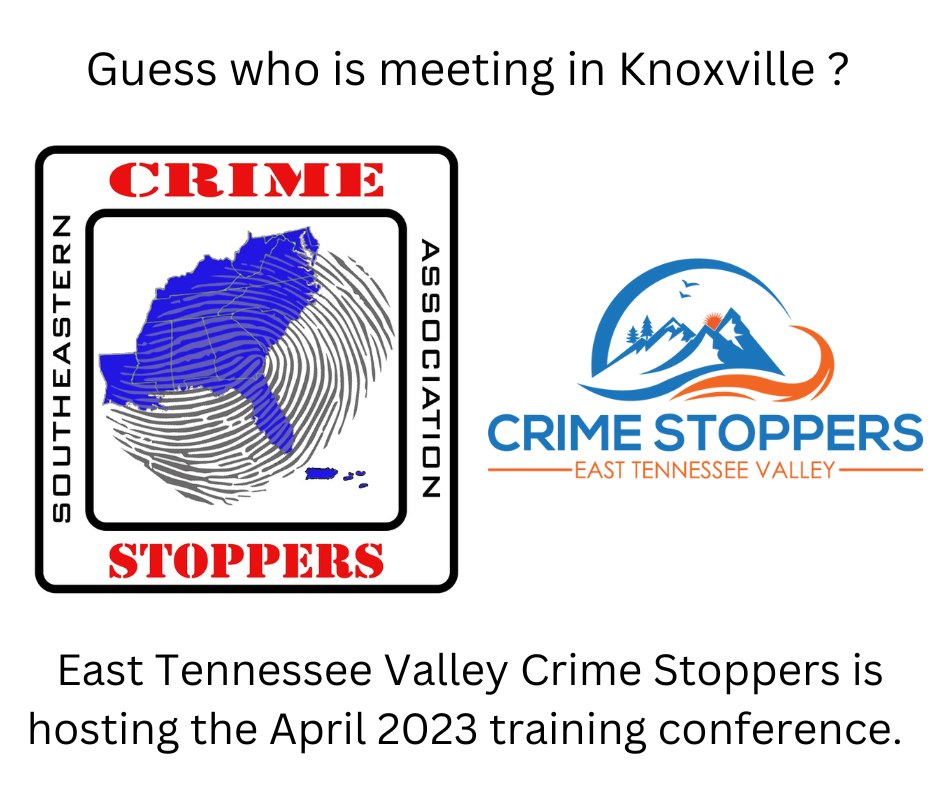 ---
| | | |
| --- | --- | --- |
| Page 1 of 3 | 42 Records | Prev | Next |